What's New
Mike, Allen Major and I lived on Earlington Hill and and went to Grade School together 2nd - 4th grade. We made underground tunnels where we had our fort. We all went to Dimmit Jr high and Renton together . Allen was my best man at my wedding. I have many memories with both of them. When we were young we were like the 3 Amigos. Rest in peace Mike.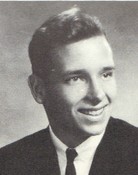 Rick, Have a Great Day, Scap
Happy early biirthday Jim. I'll say it now so I don't screw up and miss it later. God bless.
Yea Charlie we had a lot of fun at lake hills wearing our cedar river ripple rider shirts. Sometimes even starting fights there.
I really didn't know Doug in high school ( I knew of him, however). But on our 50th RHS reunion, I was helping out at the golf tourny, handing out golf towels to all the participants when Doug approached me and asked if he could be my helper! Now, how could I turn that down! In the short amount of time that we were together, I realized what a super person he was and wish that I could of discovered that years ago! RIP Doug, we will see you on the other side someday.
I'll tell you a little story about Doug Wiltgen. Remember Lake Hills Roller Rink?
Well, in our senior year we were at a big dance at Lake Hills. And you know how it was. Very multicultural, different high schools were there. Very tribal, which is what I dug about going to RHS.
Well, I was separated from my tribe and four guys from another school (I think it was Rainier Beach High School) jumped me. After some words, one guy smacked me in the face. And then they all took off.
A little later we were out on the dance floor dancing and Doug says to me, "where did you get that black eye?" Well, I didn't even know I had a black eye. So I told him I got jumped by some guys.
He says, "Who was that? Show me who it was. Nobody fucks with out president!" I was Boys Club president at the time and Doug was vice-president.
It was funnly to see Doug go over and get two of those guys in a headlock at the same time. They were trying to act like he was just joking with them but then his headlock got tighter and tighter until they had a little scuffle.
Of course they did not want any part of Doug. So he made them come over and apologize to me. I think after that we all became buddies with those guys and saw them at other dances.
The good old days! Rest in peace, my brother!
It is hard to say goodbye to such a dear friend and we are all going to miss him. Sending my sincere condolences to his family.
Happy Birthday, Diane. Wishing you a lovely day.
Posted on: Apr 20, 2021 at 11:22 AM
Happy birthday Gail. Enjoy your special day.